(David&DiAna)

Vote For Us Daily
in the Programs Below:




Vote Here:

= + = Thank You! = + =

= + = Listed At: = + =





Additional Effective Advertising Here: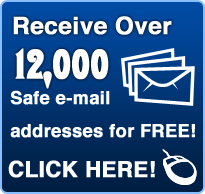 Start Your Own Mailing Business!
Start Your Own Traffic Exchange!

TheMoneyListMailer.com FAQs & Terms
You are responsible for knowing the contents of the FAQs & Terms. Please Read them in Full.
If you have questions regarding these pages, please contact us during business hours.


What is a Viral Mailer?
Viral Mailers are online Advertising services where members can e-mail each other. You can send an e-mail promoting your website in return for viewing the e-mails sent by the other members. The Higher Level You upgrade to, the more people you can send to and the more credits you will receive. When joining

TheMoneyListMailer.com
you agree to receive email from us, from our Newsletter, from
TheMoneyListMailer.com
Admin and from
TheMoneyListMailer.com
membership. You also agree to login at least once a month and visit/view 10 ads and post an ad of your own. You do Not have to upgrade or purchase for anything to enjoy
TheMoneyListMailer.com'
s products or to receive referral commissions.
What do you sell at the TheMoneyListMailer.com website?
We sell Upgrades which add more monthly credits, more banner, text & square banner advertisements for you to use to advertise your websites to our membership and

TheMoneyListMailer.com'

s mailing list. We also sell website login ads, ad credits, banner/text ads and solo ads, which will give your websites more opportunties of being seen by our members and by other advertisment websites we advertise the TheMoneyListMailer.com in.

We do not sell website traffic, nor social media activity, nor do we guarantee any website traffic or activity by using the services TheMoneyListMailer.com website offers.



I Have Not Received my Activation eMail, What do I do Now?
Please Verify your Account email and Begin surfing our members websites within a 24 hours of joining. If your account is not Verified within a few days your account may be automatically Verified, activated or deleted.
Contact us if you haven't received the TheMoneyListMailer.com activation eMail we sent you.  You may have sign up again. It is Strongly suggested and may be required in the future, that you use a gmail account when signing up. Check your spam or junk mail folder, first.  Also check that you actually filled out the SignUp Boxes on the Sign Up Page: https://themoneylistmailer.com/signup.php.  If its not there, then contact us at http://ContactUs4More.Info Complete the form entirely. Place The Name of the Site in question in the Subject box. Make sure that you have given us your name, your user name, your contact email address, your payment information, (how do you want to get paid), and the words, "TheMoneyListMailer.com member" in the body of the email. Please give us up to 3 days to respond before contacting us again.



How Do I Receive Credits?
Look for e-mails from other
TheMoneyListMailer.com
members. At the bottom of each e-mail, there should be a link you can click to view their site and earn credit. For each credit you earn, you will be able to mail another member of TheMoneyListMailer.com. Even Free Members receive 5+ credits for each Email Ad they Read and View. You can also purchase one of our Upgrades, a credit package, login page, and solo ads.
Free Members will recive upon joining:
+ eMail Your Ad Every Day (if you have the credits)
+ eMail Your Downline For Free
+ Recive 5 Credits Per Site Visit
+ 10 Second Timer
+ Opened Links at one time: 10
+ 500 Bonus Credits Per Month
+ 3% Commissions On Your Direct Referral OTO Upgrades!
+ 3% Commissions On Your Direct Referral Purchases!
Paid or Upgraded members will receive more Previlages, Random Referrals, Referral commissions and Bonuses per level they upgrade to! Upgrading, (paid membership), to earn referral commissions is Not required.

Do You Give Refunds?
No. All Sales Are Final.
Due to the fact that our services are electronic in nature, and are attached to an IPN payment system, we cannot offer any type of refund. It would impossible for us to retrieve these services and packages back in full. Please make sure that you are purchasing the correct item, for we cannot change it, trade it, transfer it, or swap it out. Do not back charge your payment, as we will notify our network of 100s of admins of what you have done and to beware of you and your immoral actions.  Contact Us First, if you are unhappy with your purchase.  Give us a chance to work the situation out with you before you contact your payment system. Send your support ticket Here.

Can I Cancel my Upgrade before the next due date?
Yes, of course, just go to the "Subscriptions" page and delete your upgrade, also send us a support ticket asking us to cancel your upgrade, or subscription in TheMoneyListMailer.com Traffic Exchange. Remember, You will lose your Upgrade's Extra privileges at the time that you cancel your upgrade. From time to time the Script may delete your upgrade status immediately upon you deleting your upgrade.  So, it is recommended that you do not cancel until just before your next payment is due. No Refunds will be issued.

You can also completely delete your account, but you will lose all your information your credits, your referrals and your commissions, with no refunds issued. Even tho you delete your account, you will still need to contact us to cancel your subscription manually. Send us a support ticket to proceed with canceling your subscription, https://contactus4more.info/index.php

Is my Credit Card Information safe?
Of course it is.  We work with payment companies who must follow the strictest rules and privacy restrictions regarding your payment information. We do not store your payment information in our servers. They are stored in the payment systems that you choose to use when purchasing your advertising tools and/or upgrades from us.

How Do I Receive/Earn Commissions?
All

TheMoneyListMailer.com

Members You Could Earn Up To 40% in commissions from Your Direct Referrals Purchases, (depending on what level upgrade you have). Even Free Members will earn referral commissions here! We only pay members who's Direct referrals purchase ad items or upgrades from our

TheMoneyListMailer.com

website. Once your commission balance reaches $25 we will pay you thru Zelle, Coinbase, Coinpayment, Gizmoh/ORU Account or your GooglePay Account. Please make sure your Zelle, (email address & Your Name) Coinbase (Wallet #), Coinpayment (Wallet#), Gizmoh/ORU (User Name & Sponsor ID) OR your GooglePay, (Email Address & Your Name) payment information is in place in the Profile Area.  No need to ask for a payout, we will send out your commissions on a weekly basis once you have met the requirements below. If you have failed to meet the payment requirements or have not filled out the payment section of your TheMoneyListMailer.com profile area, your commissions will be sent to your TheMoneyListMailer.com piggy bank. Your TheMoneyListMailer.com Piggy Bank funds cannot not be paid out, and can only be used to purchase items on the TheMoneyListMailer.com website.

  To Receive a Payout,
Your Payment information must be placed in the Profile section of the membership area. *You must be an Active TheMoneyListMailer.com member, and agree to receive All of our Admin, Newsletter and TheMoneyListMailer.com Membership emails. *You must log in every 30 days and view 10 websites a month. *You must also post an email ad, a Banner and Text Ad and add credits to them, monthly. *You must refer at least one Active member to TheMoneyListMailer.com, who joins and remains active. This ensures that our membership will stay Active, will grow and have plenty of ads to view. Do Not Bounce Any Emails from us. Please make sure your email box is not full. CLean out your emailbox regularly. See the "Qualifications" section below for more information.

Commissions are Manually Sent Out Weekly - No Need to request them:
We only pay members who's Direct referrals purchase ad items from our

TheMoneyListMailer.com

website. Once your commission balance reaches $25, (you will pay for any fees), we will pay you through the other payment system you listed on TheMoneyListMailer.com  profile page. ALL members who meet the Active member requirements will be paid, even free members!  We may contact you first to verify your information is correct. If you have any questions, please contact us.  http://ContactUs4More.info




Payment Qualifications:
* Make sure your  Zelle, Coinbase, Coinpayment, Gizmoh/ORU Account Or your GooglePay payment information is placed in the Profile section of the

TheMoneyListMailer.com

membership area.
* Make sure we have your Real First Name and Your Real Last Name in the boxes provided in your Profile Area.
* You must be an active member and receive All of our Admin, Newsletter and TheMoneyListMailer.com's Membership emails.
* You must view at least 100 ads from our TheMoneyListMailer.com membership each year, and refer at least 1 person each year you have been a member of our

TheMoneyListMailer.com web

site.
    (We are NOT a PTC site and We are Serious about keeping your

TheMoneyListMailer.com

Membership Active!)
* We also ask that you post at least 1 email ad a month and post a banner, a text and a 125 banner ad, and/or add credits to them once a month.
If you are a Serious Marketer you should be doing this anyways.
The above requirements helps to ensure that our membership will stay Active, will grow and have plenty of ads to view and plenty of members to view them.

Are There Other Restrictions I Should Aware Of?


Please Read the Terms & Conditions and/or FAQs Pages to make yourself fully aware of our Privileges and Restrictions. That way you will not jeopardize your account, your referral base and/or commissions. You MUST Keep Your Account Active and Receiving emails from us, our Newsletter, TheMoneyListMailer.com Admin and TheMoneyListMailer.com Solo Ads.


Do Not use any email filtering email addresses or services or ask for money from our membership to read their ads. Do not use BitBounce or any other kind of extortion practices to get money from our membership. If you use such email practices your account will be blocked and we will share your information to other admins. to warn them about your extortion practices. This a Free Service and you are violating our term and agreements buy not receiving ours or our memberships emails, freely.

Do Not Bounce Any Emails from us. Please make sure your email box is not full. DO NOT KEEP OUR EMAIL ADS FROM GOING TO YOUR EMAIL BOX OR FROM BEING READ! (This is called unsubscribing your account, do not do that for you agreed to receive our information and emails freely and willingly when joining TheMoneyListMailer.com). If you no longer want to receive emails from our Website, then Delete your account, and do not rejoin.


In Addition, please remember that we do not allow multiple accounts. If we find out that you have multiple accounts, all of your accounts will be deleted, frozen and/or suspended and your IPS and email will be banned which will result the loss of Your Credits, Mailing privileges, Your Referral Base/Mailing List, and any referral Commissions, with No refunds issued. Your IPS and email may also, be banned/blocked in all of our ad program network and other Mailer Networks Admins will be advised of your possible attempt of fraud or cheating activity. Our Mailer Network script is equipped with a monitoring system that will cross check with other mailer owners and make them aware of the issue.



Do Not Use "Paid for Referral" or "Paid 2 Join" Sites to increase you chances in winning
any of our referral contests.  Do not advertise TheMoneyListMailer.com Website in any or Adult Sex Site, Media or Paper product, (offline or online). Most of these referrals stay inactive and do not verify their email addresses and end up reporting YOU as a Spammer. We will immediately delete these kind of accounts.

Please Verify your Account email and Begin receiving our emails within a 24 hours of joining, If your account is not Verified or is still in Unsubscribe mode by the end of each day, your account may be automatically subscribed, actived or deleted.

From time to time the script will automatically place your account in Unsubscribed mode, As soon as you have discovered this, go into your Profile Area and click the box that says "Newsletter", you may have to place your password in the appropriate box and click the "update" box towards the bottom of the page to save your changes. Do Not stop Receiving email ads from us by unticking the "Newsletter" ratio button,  your account may be Deleted and/or Suspended, if you do so, which may cause you to lose all of your referrals, commissions, credits and/or ads.

If you do not want to receive emails from Our Mailer, delete your

TheMoneyListMailer.com

account and click on the "remove from mailing list link" on the admin newsletter we send you.

Contact Admin to release any restrictions or blocks.
When Refering Others to Join: Do NOT Spam!
We have a zero tolerance for spam sent out by any of the sites we host. spam includes, but is not limited to, sending emails to people who have not opted in or double optin to your list, adding people to your list without their approval, or adding people back into your list who have chosen to opt out. Violation of this can result in suspension or cancellation of your account without a refund AND paying for any fines, expenses and/or Legal fees sent to us because of your illegal or spamming activities.

Only use our referral link in Approved Ad Programs such as Safelist, Mailers, Traffic Exchanges, Text Ad Exchanges and Other Double Opt In Lists!   Do not advertise our TheMoneyListMailer.com Website in any or Adult Sex Site, Media or Paper product, (offline or online).  NO SPAMMING!

Setting Up Your Ads
You are prohibited from using viruses (trojans, adware, etc) to market your site or pop up, pop unders, sideway pop ups or FlyIns. No having to click an additional box to move on to the next ad or to close the ad/surf box.

No Excessive Punctuation Like !!!!! Or ***** ----- _____ >>>
This may cause your ad from being sent out and Gmail will block it from all email accounts. Gmail also blocks full word capitalizations like EASY, FREE, CASH, WOW, LOOK, etc.

There shouldn't be anything stopping a member from exiting your ad once they have view it for the allotted time. Violation of this can result in suspension or cancellation of your account without a refund.

*No More that 2 URLs in the Body Message Area.
*No "$" signs Or Mention of Money in the Subject Line.

Keep Your Messages Short No Longer than Two Paragraphs. All Ads Should Be 100% English!

Do Not Post more than ONE of the same images from the same website. Each image needs to be different looking as well as have different image URLs.
The Affiliate URLs can be the duplicated, but the image URLs
must be different.
Payment Systems Ad Posting Restrictions - Please READ!If you violate any of these posting restrictions, your account will be Deleted, whether you are a paying member or not, and you will be reported to other admins in our network, who may also delete or ban your accounts with them. We are very strict about what we allow to be advertised on our sites and what is not allowed, so please read and follow the rules.
You may NOT post any Ad regarding any of the activities that:
violate any law, statute, ordinance or regulation.

relate to transactions involving (a) narcotics, steroids, certain controlled substances or other products that present a risk to consumer safety, (b) drug paraphernalia, or CBD products, (c) items that encourage, promote, facilitate or instruct others to engage in illegal activity, (d) stolen goods including digital and virtual goods (e) items that promote hate, violence, racial intolerance, or the financial exploitation of a crime, (f) items that are considered obscene, (g) items that infringe or violate any copyright, trademark, right of publicity or privacy or any other proprietary right under the laws of any jurisdiction, (h) no dating, adult or sexually oriented materials or adult services, (i) ammunition, firearms, or certain firearm parts or accessories, or (j) ,certain weapons or knives regulated under applicable law.

relate to transactions that (a) show the personal information of third parties in violation of applicable law, (b) support pyramid or ponzi schemes, matrix programs, other "get rich quick" schemes or certain multi-level marketing programs, (c) are associated with purchases of annuities, gambling or lottery contracts, lay-away systems, off-shore banking or transactions to finance or refinance debts funded by a credit card, (d) are for the sale of certain items before the seller has control or possession of the item, (e) are by payment processors to collect payments on behalf of merchants, (f), are associated with the sale of traveler's checks or money orders, (h) involve currency exchanges or check cashing businesses, or bitcoin or cryptocurrencies, or(i) involve certain credit repair, debt settlement services, credit transactions or insurance activities.

involve the sales of products or services identified by government agencies to have a high likelihood of being fraudulent.

violate applicable laws or industry regulations regarding the sale of (a) tobacco products, hemp or CBD products, or (b) prescription drugs and devices or any supplement claiming to "cure" anyone or anything.

involve gambling, gaming and/or any other activity with an entry fee and a prize, including, but not limited to casino games, sports betting, horse or greyhound racing, lottery tickets, other ventures that facilitate gambling, games of skill (whether or not it is legally defined as a lottery) and sweepstakes unless the operator has obtained prior approval from PayPal and the operator and customers are located exclusively in jurisdictions where such activities are permitted by law.
Ad Posting Rules
Before submitting a URL or Ad to TheMoneyListMailer.com, please read these rules very carefully and make sure your URL does not violate any of these conditions.
If you violate any of these rules, your site will be deleted along with any credits assigned to them. Your TheMoneyListMailer.com account may also be deleted.
*No sites with illegal activity.
*Use a plain lead Capture Page to advertise any Matrix, or MLM.
      Do not mention the Matrix or the MLM on the Lead Capture page.
*No frame-breaking sites.
*No ponzi or chain letter schemes.
*No "Get Rich Quick" Sites or schemes.
*No viruses, trojans, or spyware.
*No Foul Language
*No adult content. Again all models in all of the ads must be fully clothed.
*NO Matrixes, Randomizers, Rotating Randomizers, or MLMs.

We are a family orientated "G" Rated website, so choose your Banner, Button, Splash Ads and Website carefully if you want to advertise them thru TheMoneyListMailer.com.
*Rotators may be promoted only if all sites in rotation comply with these terms. Use the HitConnect.com rotator so we can see all of your websites in the rotator.
*No Pictures of partially clothed or nude body parts. Head shots are fine.
*No Banner Rotators.
*No HYIPs or "investment autosurfs". *No Auto Surfs. These are illegal in most countries, including the United States.
*No PTP sites or High Earning Click PTC Sites, or Sites Like "click one ad and get $1 or more". Most of these sites have been found to be dishonest and usually do not pay out.
*No PTC websites! No BuxHosted PTC websites.
*TheMoneyListMailer.com administration and staff has the full right to delete any site that is inappropriate or questionable.
* Do Not Post Lotions and Potions websites That Cannot be Proven.
* Do Not Post drug paraphernalia, hemp or CBD product websites.
* Do Not Post dating, adult or sexually oriented materials or adult service websites.
* Do Not Post bitcoin or cryptocurrencies websites.

+Use a plain lead a Capture or Splash Page to advertise any PTCs, Matrixes, MLMs, HYIPs and/or Drug/Hemp Products. Do not mention the PTCs, Matrixes, MLMs, HYIPs and/or Drug/Hemp name on the Splash or Lead Capture page. aWeber has quick to set up capture pages available, join for free today.

Do Not Post more than 2 of the same banner image from the same website. The Image URL and the Website URL's Domain Name must match. Do Not cloak your banner images.
*No Banner rotators are allowed!

Distribution and Sale of Email Lists
You are not allowed to harvest, sell or distribute the emails that you acquire using our software. Violation of this can result in immediate termination of your account.

+ Sorry for all of these restictions, but if you want to get paid, we have to abide by the payment systems rules. Unfortunately, we need these rules, due to some people who are dishonest, and to protect our website and our Honest Members. Please bear with us and please follow the rules. We have the right to change policy at anytime, please check this page often for occasional changes. The TheMoneyListMailer.com Admins and Staff have the full right to delete any site and/or to refuse service to anyone.

Privacy Policy
Complete the Sign-In form and use your real name not your business name, when doing so. Of course, your information will be kept private and will not be shared with anyone outside of our Ad Program Network. Your Password is encrypted, so that we can't see it in our database. So, please do not ask us for your password, follow the instructions on how to retrieve your forgotten password on the login page area, by clicking on the "Lost Password, link directly under the Login area. We will not change your email address without proper ID.

Earnings Disclaimer:
We do not guarrantee any earnings or traffic activity from our TheMoneyListMailer.com website. TheMoneyListMailer.com website is a primarily free promotional service.

Changes & Updates:
We reserve the right to update, change or replace any part of these FAQs, Terms & Conditions by posting the updates and/or changes to our website. It is your responsibility to check this page periodically for changes.
Your continued use of or access to the website following the posting of any changes constitutes acceptance of those changes. We have the right to refuse services to anyone.


Questions?
Click the link below to ask any questions, suggestions or compliments to the admin.
If you send us ads or requests other than what pertains to a problem you are having with one of our websites or if you file a claim against us, without contacting us first to resolve your problem, your account will be in jeopardy of being suspended and/or deleted, which will cause you to lose all your account information, credits, commissions and referrals. Once your account is deleted, your account cannot be restored. We will also warn other Advertising Admins that you have filed a claim against us. Please be courteous and polite when communicating with us or our staff. It is always our pleasure to help answer your questions, but give us time, since our staff is small and are answering questions from many members from our other websites as well. Thank you for your Patience in contacting us.
Our Office Hours are Opened from most Monday Through Fridays, 12pm to 4pm. We are closed on weekends and Holidays.
Please give us 48 to 72 hours to reply to your inquiry.
We own Several other Sites with memberships in them that also have inquiries.
Again we thank you for your patience, May God Bless.
NOTICE:
TheMoneyListMailer.com is an Ad Program! We are NOT an MLM, Pyramid scheme or "Get Rich Quick" program. We do not require people who join our site to pay any fees to participate in our site. You are Not required to refer anyone to our site or to have a website or to sell any products to use our services. You will not get rich by using our website. We are strictly a website where you can advertise using our emailing, text, and banner advertising services. While using our advertising services, do not post any ads that have to do with MLM schemes, HYIPs, High click rate PTCs, Adult or Sex sites, CBD or other Drug sites, randomizers, cyclers, progressive income payouts, asking for donations, cash gifting, or PIFs. Important Please Read: You will be held responsible for knowing the Terms and Conditions and FAQs of TheMoneyListMailer.com website nor any of its admins, agents, representatives or employees, are responsible for the content or claims made by any of our advertisers or members. It is your responsibility to review each offer and do Your Own Due Diligence. David n Diana Reed TheMoneyListMailer.com Admins,
TheMoneyListMailer.com Website is a part of the 2ProsperU Advertising Network -  3069 Albison Dr #180 Vaca CA 95696 -
http://ContactUs4More.Info/index.php